[RELEASE]Guide L2Net BOT-interlude/gracia UpdateD 2016 its Back!!!
Here is it.its like another bots,easy to use,...and it WORK.i try on interlude(work on all servers) on gracia i dnt test it at all.
Servers tested and working : L2Tales, L2E-Global, Euro-pvp.com, ketrawars.net, eternal.ms, teon-pvp.com,
www.lineage2.world
, l2neo.com
Last Update: 29/12/2016
You Need DirectX and Net framework 3.5!!!
~~~~~~~~~~~~~~~~~~~~~~~~~~~~~~~~~~~~~~~~~~~~~
NET FRAMEWORK 3.5:
Download details: .NET Framework 3.5
~~~~~~~~~~~~~~~~~~~~~~~~~~~~~~~~~~~~~~~~~~~~~
DirectX:
Download DirectX 9.0c (full package) - the latest version of Direct X
~~~~~~~~~~~~~~~~~~~~~~~~~~~~~~~~~~~~~~~~~~~~~
If u have windows 7:just type cmd into ""Find programs and folders"" and cmd automatic open!
than just find IP from your server! its so easy way...
~~~~~~~~~~~~~~~~~~~~~~~~~~~~~~~~~~~~~~~~~~~~~~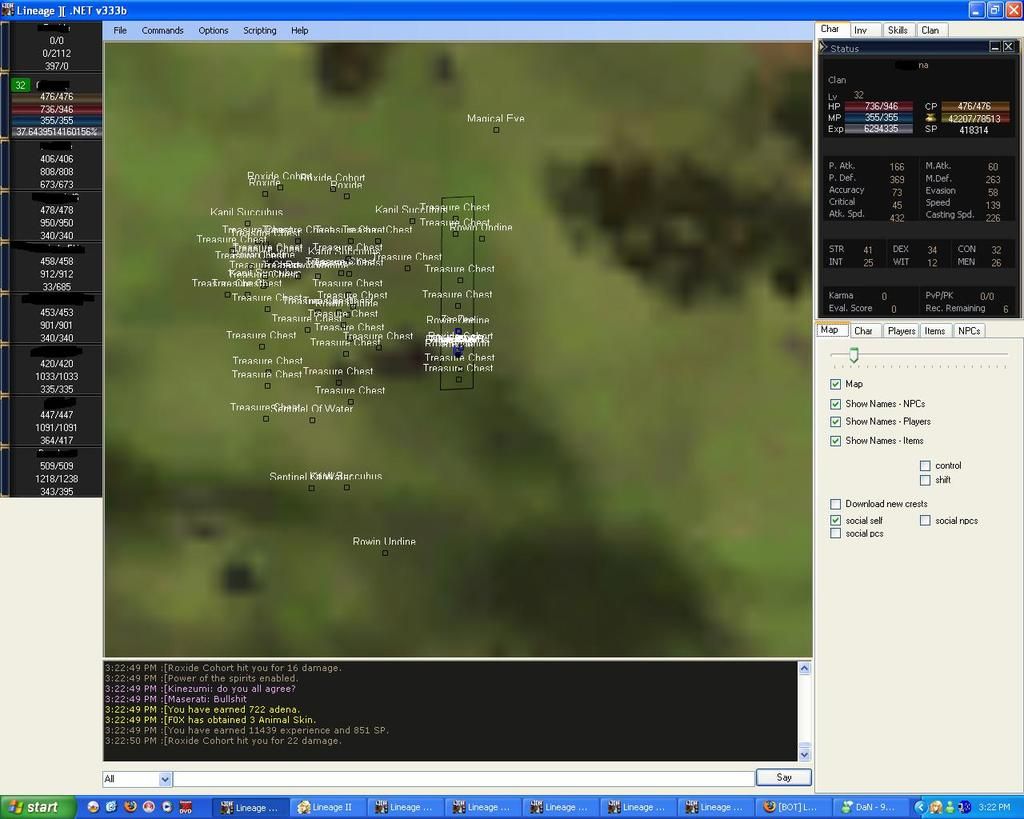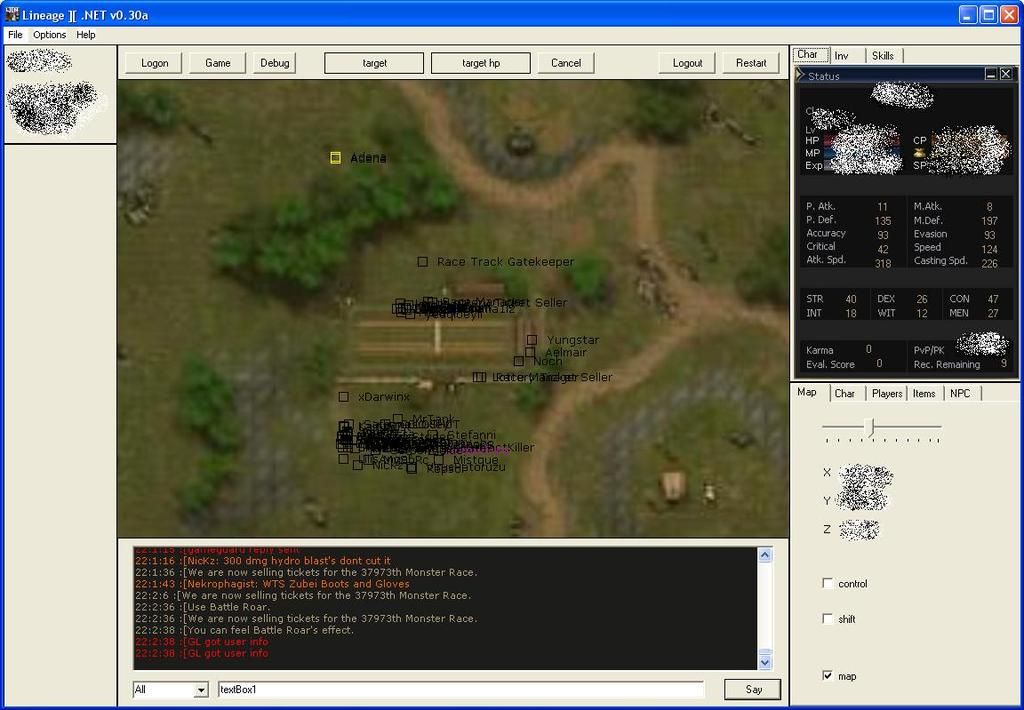 ~~~~~~~~~~~~~~~~~~~~~~~~~~~~~~~~~~~~~~~~~~~~~~~
GUIDE HOW TO SET AND USE!!!
1.Step.
Lets prep' the oven. Extract your l2net anywhere u want, i dont care where, as long as you can open it even in windows core directories as long as u remember where it is!But I would suggest to do that somewhere near your lineage 2 client!
As i have heard in the forums u should extract the datafiles FIRST and THEN the bot update itself!
2.Step.
Lets obtain the IP of the server! Well the guides for that are in this section but i found mine (and i find it most simple) with angelificatus's way-
Open Lineage 2 and log in. Click on Start, then click RUN. Type CMD and press Enter. In the black window type "netstat -n -b" (without quotes) and press Enter.
Search "[ l2.exe ]" and get the IP ABOVE THE [ L2.EXE] with :2106
If this didnt work for ya, look for other ways to get it, there are plenty around here, but i find this the best.
Now, write it down- this IP- it IS the IP of your server.
Example:
3.Step.
Well here's the hard part. As mpj123 is explaining in hes guide, we will be making another system folder which goes with l2net!
SIMPLE: When u want to connect to server they usually ask U to download files like -systemtextures-system etc! Do whatever server tells u to do with those files! Usually it just makes u copy and replace the files which are in your Lineage 2 games folder! Do it!
So at the end we will have 2 system folders!
1st will be your servers original system folder which u downloaded from your server- i will call it ORIGINAL in this guide.
2nd will be our created custom system folder which works with l2net - i will keep to mpj123's and call it systemNET
3.1. Extract your l2endec (remember?link at the top!) to any location.
3.2. Copy your ORIGINAL system folder near l2endec folder.
EXAMPLE: I would do smt like this.
L2endec at C:/lineage/l2endec/l2endec/......
I made 2 folders because in the first i will put system folder.
ORIGINAL system at C:/lineage/l2endec/....
Or u can change the name of first folder like- "meltingpod" or whatever pops in your mind. This way l2endec and ORIGINAL system folder are close and very easy to manage!
3.3. Now rename the system folder u JUST copied(3.2.) to "systemNET"
3.4. In mpj123's guide he tells U to copy some l2endec files IN to systemNET BUT i skiped that part myself as it only makes a backup- and we alrdy have backup as the real ORIGINAL system stayed in Lineage 2 game folder.
3.5. Copy l2.ini from systemNET to l2endec.
3.6."now go to you L2encdec folder, L2encdec is a little tricky to use, the best way to do it is to make batch files... (.bat)"
EXPLANATION: batch files (.bat) are as simple as they can be! one of my problems why i couldnt get trough with mpj123's way was because i had never worked with BATCH files.
So BATCH files are created simply changeing they'r extension from .txt to .bat
"Extension" is the letters at the end of the file wich says with what or how your PC schould handle the file.
EXAMPLE: "l2netROCKS.txt"- would be text file (txt) about how great l2net is. And the extension is "TXT"!!!!
NOTE.
If u cant see your extensions go to your FOLDER OPTIONS->view->and UNcheck "Hide file extensions...."
XP- u can do it in every folder under tools (i am guessing, correct me if i am wrong)
Vista/windows7- Control Panel---> Folder Options (make sure u have the right cathegory enabled)
From now on u can fallow mpj123 or this! there wont be any difference
3.7. Make a new TXT file in l2endec folder (notpad or other text document) and write in it-
Quote:
l2encdec.exe -s L2.ini L2Decrypted.ini
Pause
Save your TXT file, close it and change extension to BAT. Now click it twice and a new file will appear called l2decrypted.ini
Open it and look for "ServerAddr=" - delete IP wich are there and type in "127.0.0.1".
3.8. Create one more TXT file in l2endec folder called " ENCRYPTOR", and type in it-
Quote:
l2encdec.exe -h 413 L2Decrypted.ini L2new.ini
Pause
Save it,close it, and change the extension to .bat - click twice and l2new.ini will be created.
3.9. Now u can either rename the l2.ini in systemNET or delete it, either way copy "l2new.ini" to the systemNET and rename it to just "l2.ini".
3.10. Copy systemNET to your Lineage 2 game folder.
4.Step.
Now about adding some line in host files (c:/windows/system32/drivers/etc/hosts) but at the end he disables them anyway so u can just clear them or as HE suggests put # sing in front of every line!
4.1. Go to your l2Net folder and find file called "interface.txt"
4.2. Open it and at the end of it u can specify where your l2.exe is!
4.3. U schould specify your l2.exe in systemNET folder
EXAMPLE: X:/Lineage/LineageInterlude/Lineage2/systemNET/l2.exe
5.Step.
5.1. Run l2net
5.2. Choose logon window
5.3. Press IG or OOG
5.4. Choose your server from the list at the left (we added it earlier)
or type in your server IP yourself.
5.5. Press LISTEN
5.6. File-->Launch Lineage 2
NOTE
here is something that could help u a bit! In l2net folder there is file named "LOGINLIST.TXT" and there u can add your server IP's! Delete or leave the IPs there is your choice.
DOWNLOAD LINK:
http://www25.zippyshare.com/v/Jf7D00T9/file.html
Virustotal CLEAN